If you plan a night out with your friends, a bachelorette party, or a similar special event, limo buses are sure to make it more memorable. Renting a limo bus is an excellent way to take things to the next level and enjoy the luxury they offer.

Also, why should you and your friends take separate vehicles when you can carpool and have a great time together? Limo buses may be the most stylish way to arrive at the desired destination or simply travel around the town while having fun.

If you are looking for a perfect vehicle for your special event, you should look no further than limo buses. However, you may wonder if there's a difference between them and similar vehicles. Let's take a closer look.
Is a Limo Bus a Bus?
The term limo bus refers to a large motor vehicle that is usually derived from a conventional bus or coach. Of course, these vehicles are modified to fit their purpose, and they can carry a large number of passengers, depending on their size.
A limo bus looks like a fancy bus from the outside. However, on the inside, it has a luxury limo interior. So, as the name suggests, it represents a combination of a bus and a classic limousine, and it has the best of both worlds.
What's the Difference Between a Limo Bus and a Party Bus?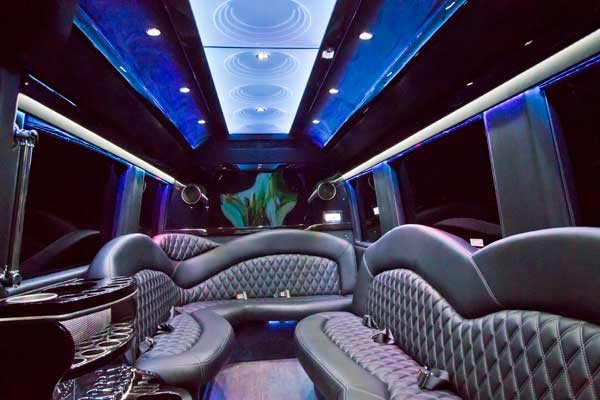 In general, there's not a significant difference between a limo bus and a party bus, so it is not surprising that people usually use these two terms interchangeably. These two names are used for the same style of vehicle.
There are some slight differences between these vehicles that we will explain below so you can make an informed decision about which one may be a better choice for you, depending on the number of passengers, and the level of mobility and comfort you want to achieve.
The main difference between a party bus and a limo bus is the purpose for which people decide to rent these vehicles. The primary purpose of a party bus, as the name suggests, is to offer a fun environment for partying. People usually decide to rent a party bus when organizing a bachelor or bachelorette party, prom parties, birthday parties, or anniversaries. Party buses are operated by professional drivers who will help ensure the event is fun and memorable while ensuring the safety and security of the passengers.
Limo buses are also operated by professional drivers, and although they are often used for organizing a party, they can be hired for any purpose. Limo buses are luxury vehicles that can be rented for classy business trips, traveling with a group of friends in style, or whatever else comes to mind. All in all, they can be used for a wider range of occasions.
Another difference between party buses and limo buses is the amenities offered. Party buses are equipped for parties, and they often come with various amenities, including a dance floor, party props, laser lights, a surround sound system, and luxury seating.
On the other hand, limo buses offer various luxury arrangements and amenities, but unlike party buses, they are not specifically equipped for a party.
Shuttle Bus vs Party Bus
Party buses can accommodate a large group of passengers and are equipped with various amenities that set a festive mood. A party bus is an excellent option for a big party, no matter if you are organizing a bachelorette party or a night out on the town with your friends.
A shuttle bus is also a good option for a large group of guests, but it is usually the opposite of a party bus. The main purpose of a shuttle bus is to carry passengers from one point to another. Shuttle buses are usually more conservative compared to party buses and have audience-style seating. You can't expect any fancy amenities for parties from these buses. People usually use private shuttle services for weddings, corporate events, site visits, or recreational purposes.
Is a Party Bus Bigger Than a Limo Bus?
Limo buses and party buses can transport a similar number of individuals. Of course, the vehicle capacities vary based on the model of the bus you choose to rent for your event.
No matter if you want to rent a stretch limo bus or a party bus, pay attention to the number of people it can accommodate. Make sure the bus offers enough space for your guests to dance, socialize, roam around, and sit. It is the best idea not to fill the vehicle to maximum capacity as you don't want it to be too crowded. Also, whatever you do, don't put more passengers on the rented bus than it can carry.
Is a Limo Bus or a Party Bus Better?
The answer to this question depends on the type of special occasion you want to organize, as well as the type of atmosphere you plan to achieve. In general, if you are planning to party all night long in an unforgettable atmosphere, a party bus is a better idea. On the other hand, if you are organizing a more casual event, or a calmer and more relaxed party, a limo bus is the right choice.
For example, if you want to rent a vehicle for homecoming or prom and are planning to get everyone in a dancing mood, it is a better idea to rent a party bus with a dance floor, fancy lights, and party props. A party bus is also the right option for bachelor and bachelorette parties as it will help you have a fun night of partying with your friends.
Now, if you are organizing a birthday party, and your goal is to achieve a fun and casual yet more conservative atmosphere, without all the amenities of a party, a limo bus is a better solution for your special occasion.
All in all, the final decision depends on your personal preferences and the type of event and atmosphere you hope to achieve.
Renting a Limo Bus for Your Next Special Event
If you are planning a bachelor party or a fun night out with your friends, a limo bus rental can help make your event unforgettable. No matter whether you want to rent a party bus, a limo bus, a shuttle bus, or a limousine, we at Bayside Limousines have got you covered.
We can help you choose the right type of vehicle for your special occasion, and we accommodate special requests. Feel free to contact us today for a free quote, and to learn more about our limo and party bus prices.